Below are 20 free lesson plans to use with the novel Smack Dab in the Middle of Maybe. These include Common Core Standards for grades 4-8. Just click on the links below to download the PDFs!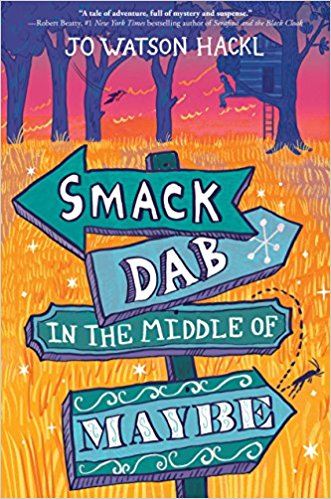 By Outdoorosity founder Jo Watson Hackl
An Outdoor Adventure in an Overgrown Ghost Town
Eleven Days, Thirteen Clues, and One Kid Who Won't Give Up
Click HERE to find out more!
SCIENCE
Animal Migration
Grades 6-8
Constellations
Grade 6
Coyote Study
Grades 6-8
Dowsers
Grade 6
Ecosystems
Grades 6-8
Field Cricket Study
Grades 6-8
Identifying Trees
Grades 6-8
Magnetic Currency
Grades 6-8
Rabbit Study
Grades 6-8
Raccoon Study
Grades 6-8
Squirrel Study
Grades 6-8
Sunset Times
Grades 6-8
ART
Nature Journaling
Grades 6-8
ART, SOCIAL STUDIES
Leonardo Da Vinci and the Codex of Birds
Grades 6-8
SOCIAL STUDIES, LITERATURE
The Poetry of Emily Dickinson
Grades 6-8
The Poetry of Walt Whitman
Grades 6-8
About Walt Whitman – Student Copy
About Walt Whitman – Teacher Copy
SOCIAL STUDIES
The Lumber Industry
Grades 6-8
MATH
Converting Feet to Inches
Grades 4-5
Converting Feet to Yards
Grades 4-5
Perimeter of a Rectangle
Grade 4