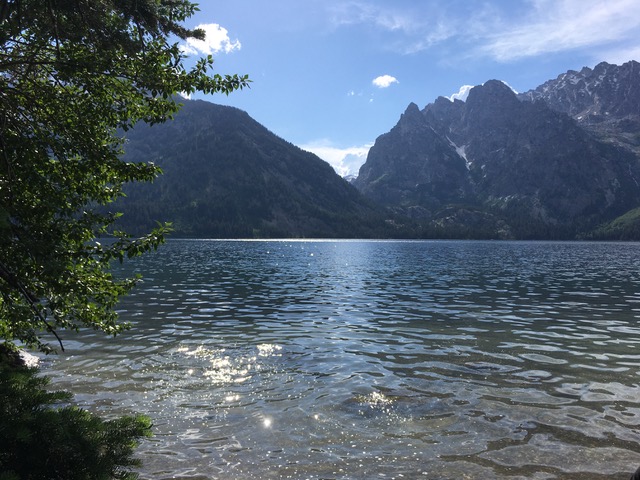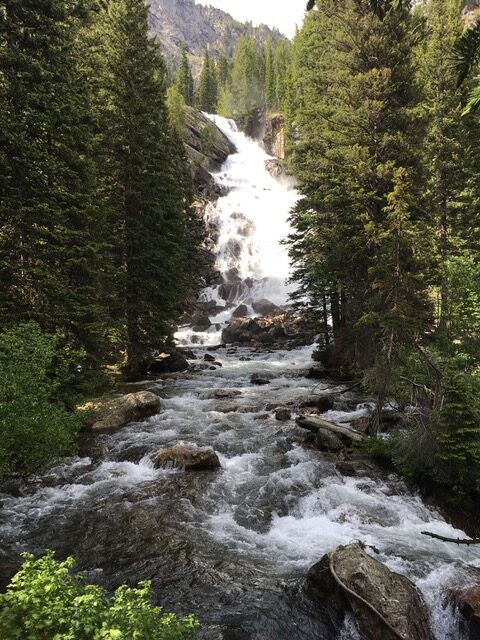 Near the south entrance of Grand Teton National Park in Wyoming is the lovely Jenny Lake. Though much smaller than Jackson Lake to the north, Jenny Lake is still almost 1200 acres across and is a focal point of the park. Its waters are crystal clear and cold—it is a glacial lake—and its bottom, at least near the shore, is made of smooth round pebbles of beautiful shades of red, brown, yellow, blue, and white.
My family spent two days exploring the area around Jenny Lake. There are several hiking trails that follow the shoreline, and they aren't difficult. One trail, Discovery, is paved and has wheelchair access. We walked this trail and the area is full of wildflowers and trees. Since the lake sits at the feet of the Teton Range, there is no shortage of amazing views. We even came upon an elk grazing near the path as we passed.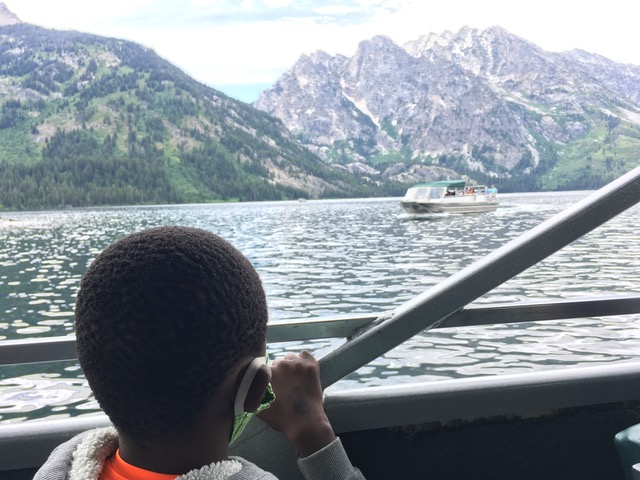 We decided on day two to splurge a little and take the boat ride across Jenny Lake, and we were so glad we did. We wanted to hike up to Hidden Falls and Inspiration Point, and although it is possible to hike around the lake to access those trails, we didn't think our younger kids would be up for it. As it turned out, the boat ride was a lot of fun! Despite the gray and rainy weather, we loved being out on the water. The shuttle boats leave every ten or fifteen minutes throughout the day, so we did not have long to wait.
Once across the lake, we began our hike. Although it was a little rocky and hilly, it was not too difficult even for our youngest, age six. Hidden Falls is only a half mile one way, and it is truly spectacular. Hiking another mile or so brought us to Inspiration Point, one of our favorite sites on our trip. The trail is rough and contains several switchbacks, but it was not long or too steep. And the weather was cool and lovely. At the top of the trail, we found a broad area with amazing views of Jenny Lake, Jackson Hole Valley, and Cascade Canyon. We could look farther up the mountains and see snow at the tops.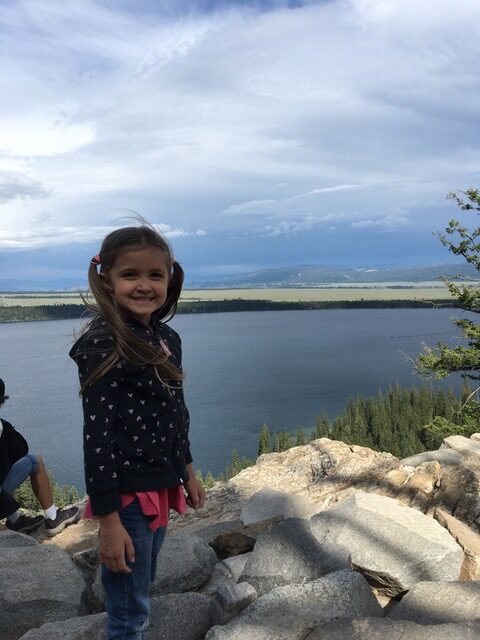 After an easy walk back down, we took the boat back across Jenny Lake. The rain had picked up and it was cold and windy, but even so, the lake was stunning. We headed for shelter at the Visitor Center right by the lake, which has several shops, restaurants, and historical information about the lake.
All in all, we enjoyed every minute we spent at Jenny Lake. It was our favorite part of our visit to Grand Teton National Park.