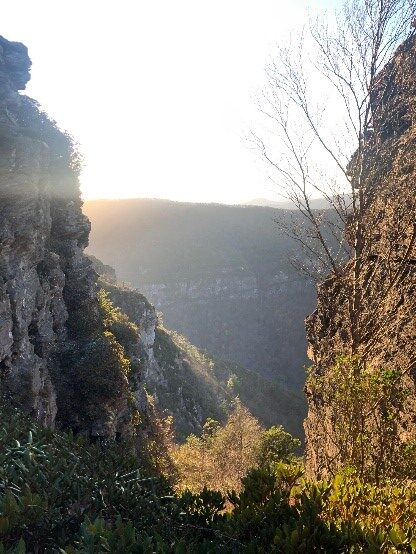 One weekend in mid-November, some friends and I decided to hike up to the Chimneys in Linville Gorge near Morganton, North Carolina. It was a bit of a drive from where we started, especially when the pavement slowly turned to gravel, and the potholes became bigger. However, we continued driving up the mountain on the less-than-ideal road. When we finally made it up to the Table Rock Mountain parking area, we unloaded our gear and began hiking up the trail.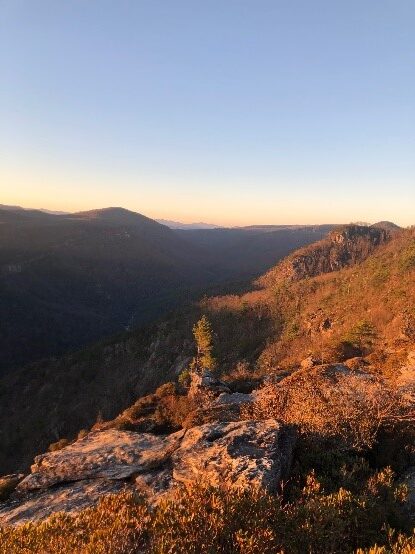 It was less than a mile to our desired destination, and the hike itself was beautiful and relaxing. There were several locations to set up a camp, which other hikers were taking advantage of. The path got a bit rocky roughly halfway to the Chimneys, and every time we approached a lookout, we thought we had arrived. Finally, we made it to the Chimneys, and nothing we had previously passed even compared.
We had gone around 4:45 to watch the sun set around 5:15, and it was well worth it. The rocks themselves were much bigger than I had imagined, and the views were breathtaking. I did not even feel like I was in North Carolina anymore. Every turn I made I was looking out onto another gorgeous scene of rolling mountains, colorful trees, and a painted sky. We stayed until the sun disappeared behind the mountains and the sky shifted from a dusty pink to a solemn blue.
Quick summary of the hike:
Distance: 1.5 Miles Roundtrip
Elevation gain: 1150 ft.
Hike: Moderate
Camping: Allowed. A free permit is required on weekends (Fri-Sun) and holidays between May 1 and October 31. For a permit, call the Grandfather Ranger District Office: 109 East Lawing Dr., Nebo, NC 28761 (828) 652-2144