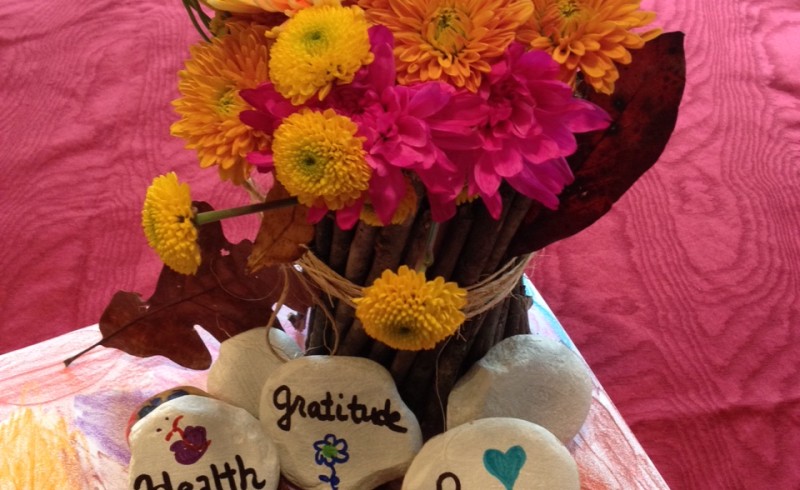 There's no better way to give thanks than to display your appreciation for nature at the Thanksgiving table. Natural elements, with their depth of texture, are always beautiful to behold. Next time you are out on a walk, whether it be in the country, city or suburbs, make it a game with kids to collect as many fallen leaves, smooth stones and twigs that you can. With very little effort and a whole lot of fun, these will be the basic elements for colorful rubbed leaf placemats, message rocks, and twig vases your kids can be proud of.
Leaves, with their veins and grooves, have beautiful textures. To make a rubbed leaf placemat, lay the leaves flat in collage form with the vein side turned up, then put a piece of white paper over them. Rubbing a colorful crayon over the paper will yield beautiful designs. You can overlap them or color each one a different color. Why stick to the basic colors – how about cerulean blue? Personalize them further by creating an individual one for each person at the Thanksgiving table using their favorite colors.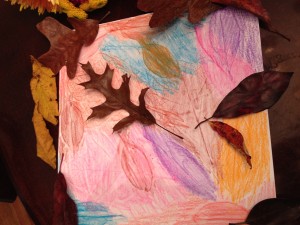 Kids love rocks and paint, so why not combine the two? Kids will love to give their guests a warm welcome with a rock message they can take home and keep forever. If your rocks are dark, you may want to brush a coat of white acrylic paint over the top. Then, with a sharpie marker, write a word or a short phrase on it. Paint or draw cool designs around the phrase, be creative and let your kids' imaginations take flight!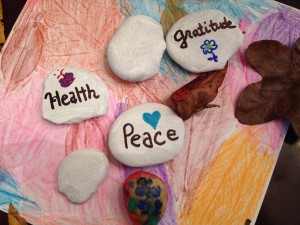 Flowers are an essential part of the Thanksgiving table, and having a vase with a rustic feel will make it seem like you're having an elegant picnic. To make the twig vase, select a can or jar of your choosing. Cut and wrap a piece of dark construction paper around the can or jar, leaving an extra inch at the top. Cut enough twigs to fit the can and make sure they are of similar height. After wrapping a few rubber bands around the center of the jar, let your kids tuck the twigs all around the can until it's covered entirely. You can cover the rubber band with a piece of burlap string, raffia or ribbon. Wrap it around the center, and voilà!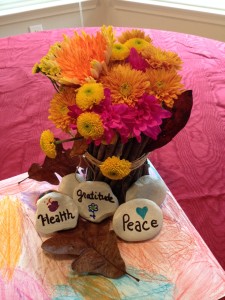 Article by Irena Tervo.