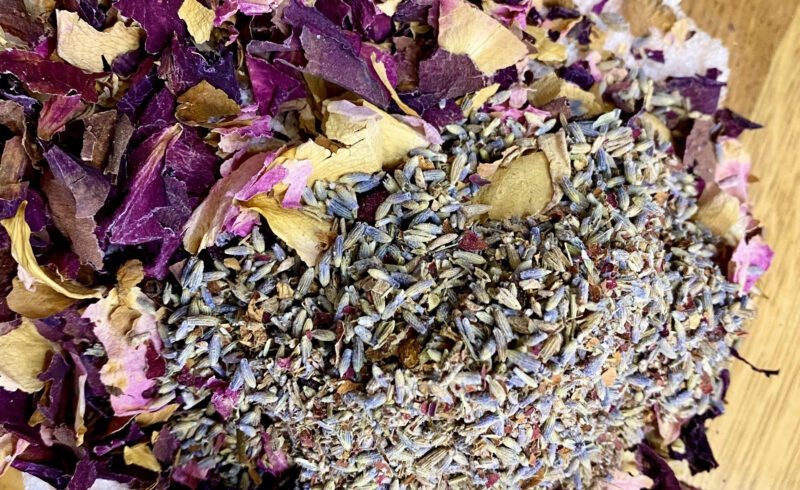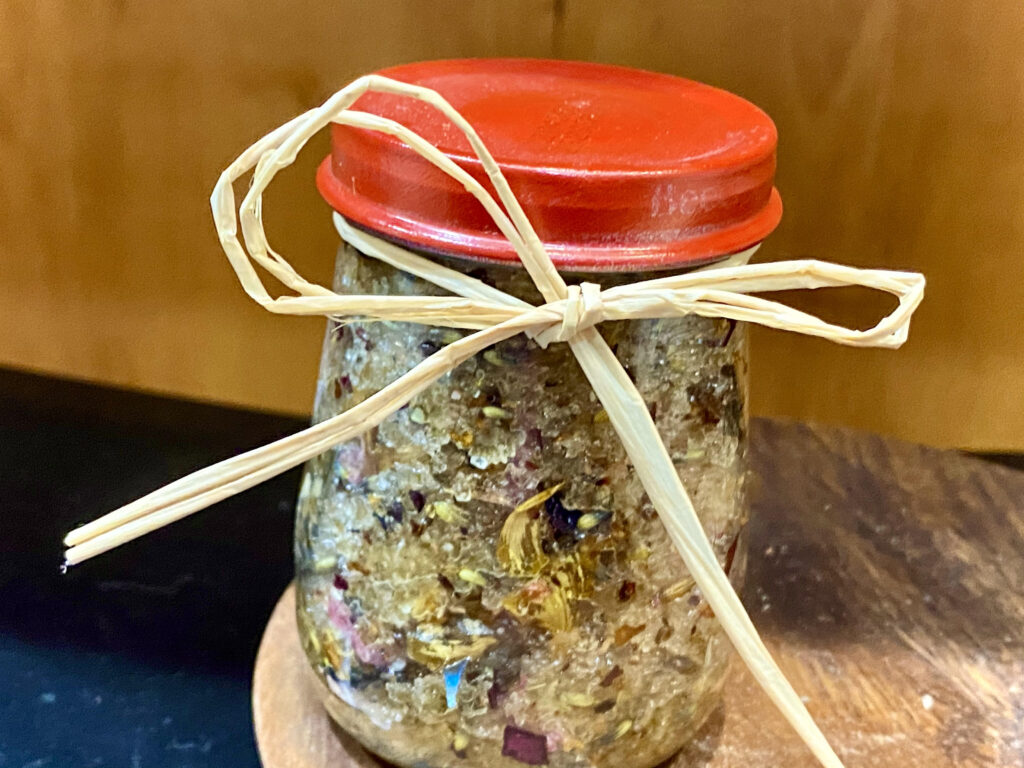 Looking for a last-minute gift idea? Pull out those rose petals you've been saving and make some facial scrub from things you likely already have in your pantry (and create a gift for yourself in the process)!
As those of you who know me well or follow me on social media already know, I love gardening and I love growing heirloom roses and lavender. I enjoy their blooms on my desk, and I dry the petals after the blossoms fade. This leaves me with lots of dried petals come winter. This is perfect because they come in handy for making homemade gifts. My favorite is the easiest- rose petal exfoliating scrub. Below is the recipe that I use, but you can vary the ratios and ingredients (as long as they're organic and safe for the skin) to suit your tastes. Here's how I make mine:
Gather together ingredients:
Two cups sea salt or sugar
Three handfuls of dried rose petals (this is not an exact measurement; add as many or as few as you'd like)
One half cup of dried lavender flowers or 5 drops of lavender certified therapeutic grade essential oil (my favorite brand and the only I use is doTERRA, but whatever you use, make sure that it's certified therapeutic grade). If you don't have certified therapeutic grade lavender essential oil on hand, you can substitute another therapeutic grade essential oil that's safe for topical use and recommended for skin health.
1 cup carrier oil such as fractionated coconut oil, extra virgin olive oil, or almond oil
½ cup honey (I love to use locally sourced honey)
Containers (I love to use recycled baby food and other food jars)
Optional: Paint or other decoration for lids and raffia for presentation
Directions:
First, take off any rings and roll up your sleeves. You'll be glad that you did. This can be a messy process, but it comes with a side benefit of a hand treatment while you're mixing.
Gather a bowl, and clean the containers.
Paint the lids if you desire.
Crumble the rose petals and any lavender flowers finely in your fingers (my favorite method), or run them through a food processor.
Combine the dry ingredients: the salt or sugar and rose and any lavender petals.
Add the carrier oil and honey and essential oil, if using.
Combine well. This is when you will be glad that you took off any rings and rolled up your sleeves. Breathe in the aroma and enjoy the texture on your hands. Be sure and spread the mixture on the backs of your hands and on your wrists. When you rinse off your hands later, you'll already experience the benefits of the scrub you've created.
Spoon the mixture into your preferred container. You can create your own custom label if you like, and decorate with raffia or other natural material.
Be sure and save a jar of rose petal facial scrub for yourself! Enjoy!