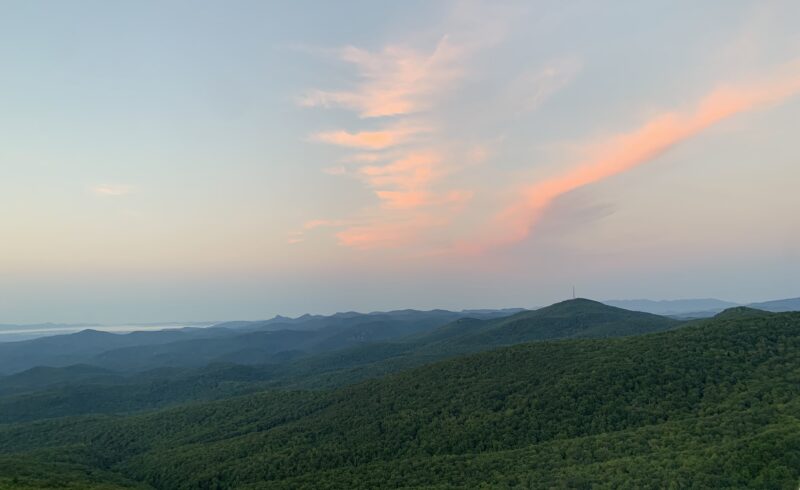 What would you do if you had an invitation to see a sunrise off the Blue Ridge Parkway? Last fall, I received just such an invitation from some friends, so I jumped at the opportunity. Waking up at 4:15 in the morning was harder than I that it would be, but I managed to roll out of bed, slide on my shoes, and head out to Rough Ridge Trail in Linville, North Carolina.
Rough Ridge Trail is .8 miles (1.3 km) long and part of the larger 13.5 mile (21.7 km) Tanawha Trail. An uphill trek, the trail offers amazing long-range views of Linville Gorge, Grandfather Mountain, and the Linn Cove Viaduct. Just 1/3 of a mile from the parking area is a boardwalk that protects the mountain vegetation. Hike another half mile and you reach the summit, an elevation of 4773 feet (1454.8 m).
When we pulled into the parking area (Milepost 302.8 on the Blue Ridge Parkway), it was still dark and quite cold. We turned on our flashlights and found the start of the trail on the right-hand side of the parking area. Although steep, the trail was a relatively easy hike. However, the it is a bit narrow, and there are a considerable number of rocks which might make it more difficult for children. Also, recent rainfall may make navigating the trail a little tricky. Fortunately for us, the trail was dry, and we were the only ones venturing up the mountain to the lookout.
We knew we were close when we approached the boardwalk. Finally reaching the top, we stepped onto the large rock which extends out from the mountain, sat down, and waited for the sun to rise. It took us less than 20 minutes to to hike from the parking lot to the lookout. We agreed that next time we didn't need to get up quite so early.
When the sun finally appeared, the sky quickly shifted from a dark blue to bright oranges and yellows as light rolled over the mountains. It was a beautiful sight, and we all decided we needed to come back again soon.