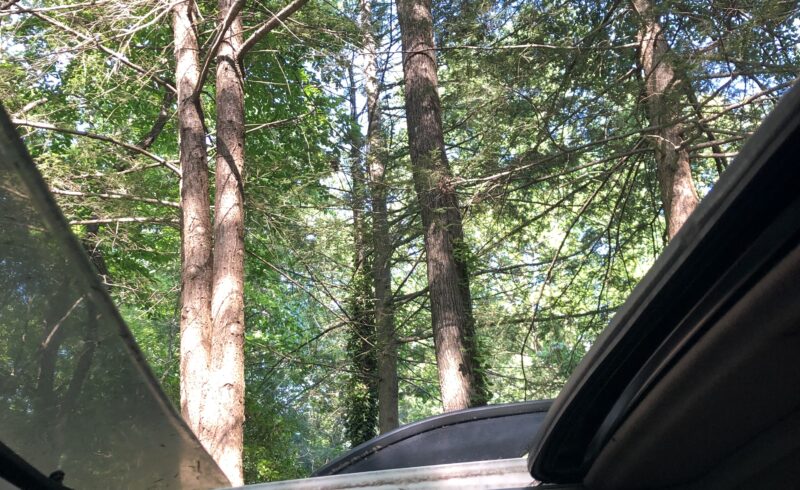 After driving the beloved forest green family minivan for all of my licensed teenage years, I was excited when it came time to pick out a new set of wheels. I'm not a very picky person when it comes to cars, but after sporting a twenty-year-old Ford Windstar and embracing all of its "charming" imperfections, one feature was high on my list: a sunroof. While it may sound like a slightly unnecessary feature, there was always something appealing to me about having the option to put my hands in the air like I was in a music video. In my mind, a sunroof is the ultimate way to enhance a car ride, and last month, I was lucky enough to make my dream a reality.
After driving around these past few weeks, I can say that summer has been perfect for trying out my new favorite feature. Last Friday, I was reminded exactly why I so badly wanted a gaping hole in the roof of my car. I was driving back from a solo hike I'd completed in the Pisgah National Forest of North Carolina. The trailhead was located deep in the woods, down a winding gravel road. Covered in sweat and ready to circulate the hot air out of my car, I rolled down all of my windows and popped open the sunroof. As I drove 10 mph along the bumpy path towards civilization, I couldn't help but to continually look up.
Autumn may have a larger spectrum of colors, but summer leaves are uniquely electrifying. When the sun illuminates the bridge of green from above, a sense of energizing life emerges. Although I was surrounded by trees on each side of the car, I would have missed the best part of the view entirely if I had been looking only through the open windows. I would not have been able to enjoy the angles created by looking up. When I was forced to slow down on the rocky road, I could thoroughly take it all in. The birds chirped, the breeze rustled, and the forest embraced me with open arms.
Driving with an open sunroof invites the external surroundings into your moving metal box. There isn't always a natural landscape beyond your peripheral windows, but unless you are traveling through a tunnel, there is always a vast sky above. Summer is the perfect time to get some wind rushing through your hair, take in all the sights, breathe in all the smells, enjoy all the sounds, and make driving an outdoor experience. .
So put on your favorite song, switch the car in drive, and roll the windows back…
It's officially sunroof season.
***For those still driving the rustic minivans, don't worry, I promise you that rolling down what you can is a great deal of fun too!!***
Featured Image by clarita