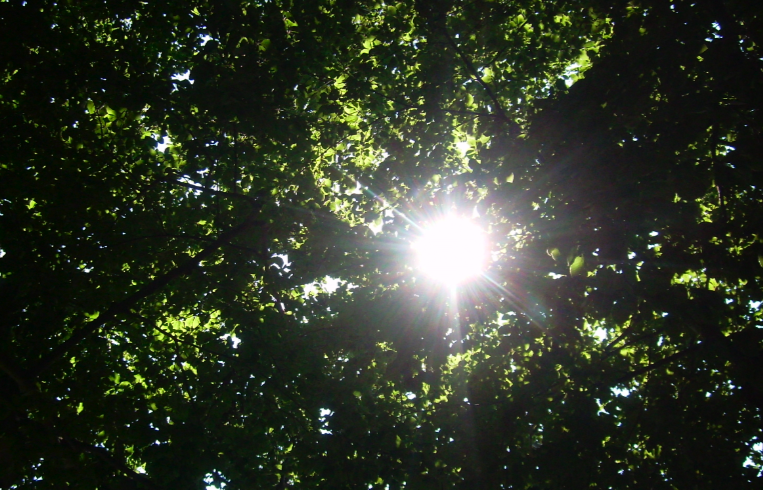 Why wake to the blaring of an alarm clock when you can ease into the morning to the sounds of birds and natural light streaming in your window? Even though you're heading back to school, you can still enjoy the dog days of summer by letting the sun wake you up. If your bedroom window looks out to a private area, leave enough space in your window covering to let the sunshine bring in the morning. Before you're even all the way awake, the gentle morning light will help your body get ready for the day and help you adjust to the back-to-school schedule. For peace of mind, set an alarm clock as a back-up.
If you find yourself up earlier than needed, you can use the extra time to exercise, stretch and prepare for the day. Even better, take a quick walk outside. Observe the way the morning mist creates its own soft-focus lens, the way the light filters through the trees, the way the night's dew has refreshed even the droopiest wildflower, the way the daylilies are just starting to creep open, the way the moonflower vines are just closing after the evening's fragrant appearance. It is the perfect time to gather a bouquet to brighten your study space or—better yet—your teacher's day.
Science supports the benefit of aligning your body to a more natural sleep-wake rhythm by spending more time outdoors in natural light and letting the morning light wake you up gently. For more reading, check out The New Yorker's article about how exposing campers to natural light while avoiding artificial light and alarm clocks made it easier for the campers to both fall asleep and wake up. As you head back to school, these are both good things. Your Outdoorosity team wishes you a wonderful school year. We hope that you engage with nature to make it even better.
Article by Jo Hackl.