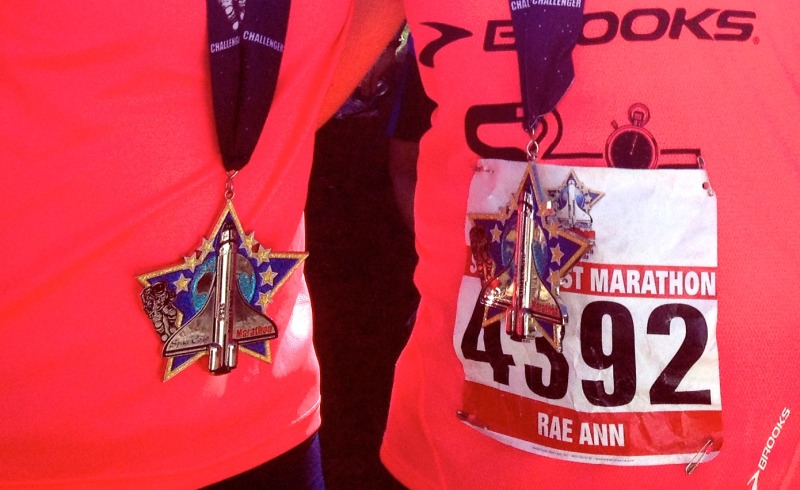 On Sunday, November 30th at 10:07 am, I completed my first 26.2-miler. Crossing the finish line was a beautiful and surreal moment. There were people all around me and many things happening all-at-once, but I was most aware of my legs and the clock. I ran for three hours, 46 minutes and 19 seconds in a row, ten miles further than I had ever run in a day. I can now say that I am a marathoner.
It was a difficult and rewarding journey. I trained for months and went out in the cold and dark when I just wanted to stay inside. Navigating the various water fountains and public restrooms of downtown Greenville, South Carolina became second-nature. I made it through ten-mile tempo runs where I really didn't know how I had maintained an 8:12 pace. During the warmer portion of training, I enjoyed a lot of post-run slushies. I laughed aloud the day I realized how excited I was about only having a seven-miler on the schedule. There were a lot of achy days, and there were many moments of post-workout elation.
During the months of training just as much as the last few hours before the race, I used bits and pieces of knowledge that I had gained through the benevolence of all of the coaches, teammates and races of the 12 years that I have been "a runner." Throughout my training, I asked three accomplished athletes—my beloved high school coach and RunnerGirl founder, Rae Ann Darling Reed, an inspiring college acquaintance who had recently won a 50k, Chelsey Woods, and a dear Furman University cross country teammate and racewalker extraordinaire, Erika Shaver—hours' worth of questions about fueling, pacing, running with music, and anything else that came to mind. I read some great articles in Pace Magazine and Runner's World. 26.2 car magnets now held even more of my interest than they had before. Would I earn the privilege of displaying one of these symbolic decorations on my own car?
My roommate the night before the race, a former high school rival and church friend, encouraged me and sang along with me to some favorite country tunes and of course, songs from the new Taylor Swift CD. The veteran of now three marathons and a Boston 2016 qualifier, I laughed when Emily Egan mentioned that she stressed before her first race remembering that "the first person who ran a marathon died." It was a beautiful and slightly terrifying thing for me to realize that I had no idea if I could do this or not.
Sure, I had trained a heck of a lot. In October, my best friend of almost five years had mentioned that I looked a lot more muscular than I used to. Tempo runs had never before felt like second-nature and I was feeling really good after completing each 13-miler (huge thank you to the wonderful and tireless Sarah Mae Lammert for her company!). But, you never know. The uncertainty that is inherently a part of the attempt of something daunting is exactly why it is so rewarding when the daunting goal is accomplished.
On November 30th, I woke up at 3:57 am, quickly dressed and grabbed my supplies (stored in the essential race-check bag) then waited in line for the shuttle. During the commute, I chatted with the woman next to me about previous races and about our hopes for the day. I ate fruit snacks and graham crackers, and drank water and Gatorade. I enjoyed the amusing camaraderie of the port-a-potty line and made my way to the start. Despite thousands of spectators and runners, I found Jean-Louis, the pacer, who had run more marathons than he could count, holding his trusty "3:45 pace" sign. I got my stopwatch ready to go, and before I knew it, we were moving. It was real now. The Space Coast Marathon had begun.
We ran an out-and-back course along the water in Cocoa and Rockledge, Florida. I started dutifully eating Clif Shot Bloks at mile six. We passed many locals cheering from their front yards: people from many different demographics and a variety of outfits, including astronaut suits, Buzz Lightyear costumes, Princess Leia buns and even Jabba the Hutt. Some of the onlookers held hilarious signs, my personal favorite being "Remember, you paid to do this." Several dolphins splashed in the water to our right and pelicans dive-bombed to catch fish. Halfway through the race, I was on-pace for about 3:40 marathon. A middle-aged man who had been with my pace group mentioned that he was hoping to break 3:40, and I told him that we should go for it. John and I got to know each other over the next 11 miles together, and I was extremely grateful for his company. My mom texted me encouragement as I ran. A guy in a lawn chair blasted a Pitbull song at exactly the right moment. John and I had sped up to roughly eight-minute-per-mile pace and I needed his help to stay there. I high-fived four people who I didn't know and cheered for both acquaintances and close friends running in the opposite direction. I kept telling John, "Wahoo! We're still crazy" and my legs kept moving. Aside from the blisters that accompanied me for the last eight miles and a few twinges of pain, I felt great. After I finished, I gave John a sweaty hug: we had both broken 3:40 by more than a margin. I congratulated Emily for qualifying for Boston with plenty of time to spare and I completely shocked myself by finishing only 79 seconds off of the Boston-qualifying standard. Happy exhaustion sunk in as I stretched, called my parents and devoured a lot of pancakes. Later, as I wandered on Cocoa Beach before my flight, I realized that I'd have to try for the Boston Marathon qualifying standard one of these days. What an adventure that will be.
I am immensely grateful for the ability to complete my big goal through God's power alone. Thanks for all the support, friends and family. Don't be afraid to try a marathon, a 5k, a triathlon, a new class at the gym, a steep hike, Jiu-Jitsu, or challenge yourself to form a healthy new habit. As Nelson Mandela said, "It always seems impossible until it's done."
---
In case a long race is your big goal, here are my favorite distance race training tricks:
-Use a resealable plastic bag to protect your phone in the likely event of sweat and the unlikely event of inclement weather.
-Incorporate occasional yoga sessions when you can.  For me, yoga classes were an essential time to reset while working on flexibility and other muscles.
-Keep a portable size sunscreen in your everyday bag. Refill from a larger bottle when needed.
-Leave for a run immediately after your workday is over. It's a lot easier to procrastinate, get hungry, or waste valuable daylight hours if you go home or before you complete your run.
-Buy two pairs of your favorite running shoes at the beginning of your training: it's a lot of mileage and you will need them.
---
Article by Jessica Pate.