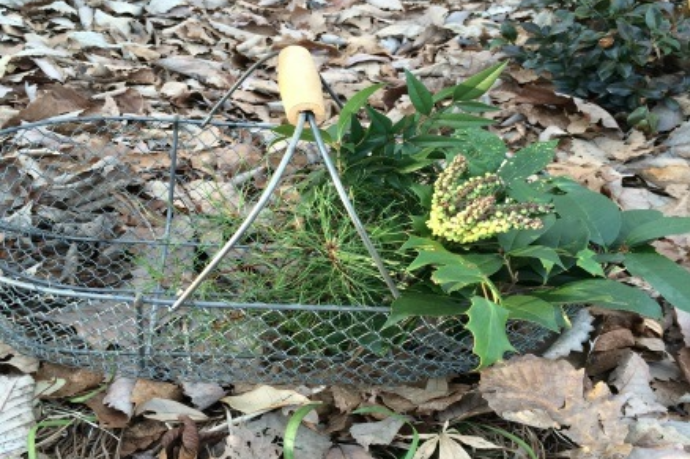 If short winter days have you longing for more time outdoors, how about bringing a bit of the outdoors to your desk? Research shows that indoor plants can improve your outlook and even reduce stress (see, for example, this article on the benefits of plants). Our family has a long-standing practice of keeping fresh flowers on the kitchen table. This winter, though, I've taken it one step further and now keep fresh winter arrangements on my desk and throughout our home.
Starting the day with a quick walk outside to collect greenery is invigorating. Looking for plant materials to bring inside helps me see beauty in small details. Once inside, the process of arranging the branches becomes almost a meditation. My arrangements are not overly complicated or fussy. I just follow a pattern that looks good to me. Below I share a few arrangements and some practical tips.
Walk slowly through your outdoor space, get low to the ground, and look for attractive (non-poisonous) greenery. Seek subtle, inspiring scents.
If you're short on time, use small-throated vases that require less greenery.
Remove all leaves below the water line in the vase and cut stems at an angle.
Each morning, change the water, gather new materials as needed, and make subtle adjustments to the arrangement to keep it fresh and make it your own that day.
Material freshly gathered may not last as long as that from a florist. That can be a good thing. It gives you more reason to go outside and collect more material.
Experiment to find the greenery you like.
Have fun! The experience of creating your arrangement is just as important as the finished product.
Article, flower arrangements and photographs by Jo Hackl.