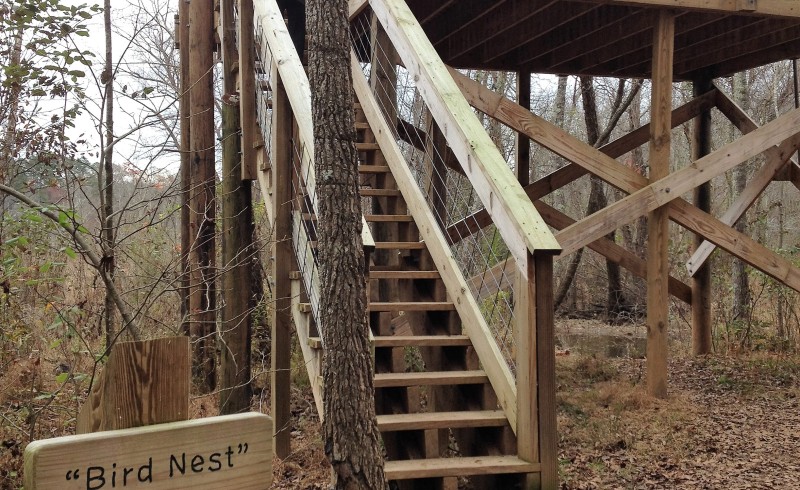 We went to Lake Conestee Nature Park on a mild winter Sunday –my husband, my kids, my dog. It was one of those rare times where, after days of pelting rain, we were treated to beautiful weather. For a few glorious hours, the sun shone and no coat was needed on an early afternoon stroll. I'd heard about Conestee from friends, but had never been there myself. Only twenty minutes from where I live, it was the perfect way to get the kids to disconnect from their tech gadgets and spend quality time as a family.
The address of Lake Conestee Nature Park is 601 Fork Shoals Rd in Greenville, South Carolina, but we entered via Mauldin Road. I'd passed this entrance many times on the way to take my kids to summer camp and, had never peeked inside. However, once we parked the car, strolled past the large playground and started on a trail, we discovered the real size and magnitude of Conestee.
Conestee is one of those wonderful parks that doesn't charge an entrance fee, but don't let that element fool you – it has its own distinction. For starters, Lake Conestee Nature Park is rated by many experienced birders as one of the best birding sites in the Upstate of South Carolina and is featured as a South Carolina birding hot-spot on ebird.org, and on the Carolinabirdclub.org as well as the Greenville County Bird Club websites. According to Conestee's website, you can find numerous species of migratory birds in spring and summer. These include the scarlet tanager, cedar waxwing, and indigo bunting. And throughout the forest, northern cardinals, blue jays, and Carolina wrens are year-round residents.
We began on one of the two loops thinking we'd skip through fairly easily, but soon found we should have been more attentive to our surroundings. There are approximately three miles of natural surface trails, two miles of paved trails, almost 2,000 linear feet of boardwalks. I believe we zigzagged across most of them, first with an adventurous spirit, and later, once it began to rain, with more desperation as we struggled to find our way back before getting totally soaked. However, even in the midst of our panic, the trees offered a nice canopy and the trails remained fairly easy to navigate.
The park contains both hardwood and evergreen forests, extensive wetlands, three farms and a rich diversity of wildlife habitat. Deer, raccoon, beaver, fox, river otter, and various small mammals inhabit the park, along with numerous species of reptiles and amphibians. While there, we heard the birds and saw beaver dams. Apparently some beaver dams in the park are hundreds of feet long and can raise the pond level behind the dam as much as four feet!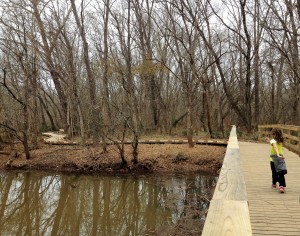 When you walk along Conestee, you can feel the diversity of its different areas. We started off hiking among the hardwoods, then passed meadows and fields before our trail forked into a marshy wetland, which we walked over on newly constructed boardwalks. Sparkleberry Island, an interesting area in Conestee, was a secure campsite for early Native American hunting parties. Anywhere from one thousand to three thousand years ago, large game hunted in this area included white-tailed deer, American bison, elk, black bear, and cougar. Another place worthy of note is Forrester Farm, one-hundred acres on the east side of Lake Conestee, previously part of the 700 acres of cotton land owned by Reedy River Factory.
My first hike in Conestee, I went blindly, without knowing any of its rich history. But being there made me what to know more. Next time I go, I'll pay more attention to the birds, to the lands where Native Americans roamed, where dangerous animals lived and where Southern industry thrived. If you want to know more about Lake Conestee before hiking there (which I highly recommend), visit https://lakeconesteenaturepark.com
What's your favorite area in Conestee?
By Irena Tervo