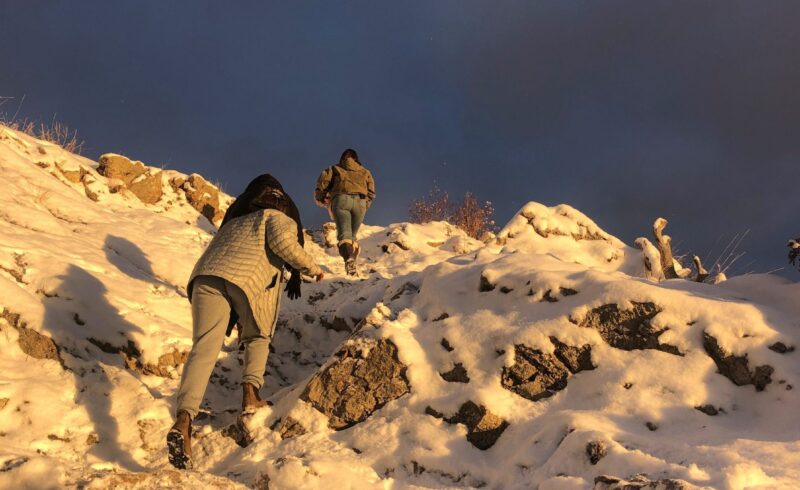 For many of us, a new year means a little bit more than simply breaking out a new calendar. It provides an alluring opportunity for a "fresh start" and often stirs within us a surge of motivation to become a better version of ourselves than we were in the year before. Admittedly, I am a huge fan of the concept and love any and every opportunity to set a new goal, but in recent years, the characteristics of my New Year's Resolutions have slightly changed. We tend to do a great job as a society of making countless fitness pacts with ourselves to "drink more water," "cut out junk food," and "hit the gym every day." Trust me when I say that I too have done my fair share of these. Although improving personal health is an incredible objective to work towards day in and day out, I think that it is important for us to seek growth in other areas of life as well. In light of the current state of the world around us and the taxing year that we all have just endured, I believe it is increasingly essential to consider making resolutions that have an impact beyond ourselves.
I encourage you to ask yourself: How can I strive this year to better the community and natural world around me? How can I make a difference with my daily actions? There is no one-size-fits-all solution, but this just means that the possibilities are endless. I cannot answer this question for anyone except myself, but if you find yourself a little stumped, I do have a few ideas to consider tacking on to your list of goals and resolutions this new year. And maybe then, we can collectively protect the environment around us and make 2023 that much better for everyone.
Here Are a Few Resolutions Worth Giving a Try to Make a Difference This Year:
Explore Nonfiction

Reading is one of the best ways in which to educate ourselves on the challenges around us. It is no secret that human activity has a lasting impact on the Earth we share, but these bigger problems are even harder to solve if we are unaware of what needs to be fixed and how we can begin to help. To get started on your search for a new title, look here. For those who struggle to read at the end of a long day, there are also great documentaries on every streaming platform. Consider trying one out on your next movie night. My personal favorite is "The Biggest Little Farm."

Reduce, Reuse, Recycle, and Compost

Yes, we've all heard about the importance of the Three R's, but there is always room for improvement. Maybe this means committing to using a reusable water bottle all year, putting more recyclables in your blue bins, or not partaking in fast fashion. Maybe it means minimizing your discarded food scraps by starting to compost. Or maybe, it means bringing your own bags with you into the grocery store. Take a moment to reflect on what more you can do.

Donate and Shop Second-Hand

If you are a college student like me, I am going to let you in on my favorite secret: Plato's Closet, Goodwill, Poshmark, and Curtsy. Not only have I found some of the most unique pieces in my wardrobe from these four sites, I was able to purchase them for about a third of the price that they would have cost new. These places also allow you to trade in any clothes that you are no longer wearing so others can continue to be enjoy your pieces. Even if you are not on a tight budget, thrifting and shopping second-hand is a great way to keep excess clothing out of landfills and to help the environment. There are also great outlets for getting your hands on some second-hand outdoor gear, such as Worn Wear and REI.

Switch Your Search Engine to Ecosia

Everyone with a smartphone or laptop at some point in time has carried out an internet search to answer one of their many burning questions. If we are constantly looking things up, why don't we put our searches to good use? What if I told you that you could plant trees by simply changing the default search engine on your internet browser? This is exactly why I switched to searching on Ecosia last year. As explained on their website, "Ecosia is a search engine based in Berlin, Germany, that donates 80% or more of its profits to nonprofit organizations that focus on reforestation and planting trees where they are needed most." Regular searches add up throughout the year, and with Ecosia, every 45 searches you make provides enough funds to plant a new tree.

Eat More Plant-Based Meals Throughout the Week

Eating a predominantly plant-based diet is one of the best actions you can take every day to better both your own health and the wellness of the environment. Not only has the reduction of meat consumption been linked to reduced rates of cardiovascular disease, several types of cancer, and overall mortality, it conserves water, reduces greenhouse gas emissions, and protects forests from being cleared to raise livestock. A little goes a long way, and even eliminating animal products from one dinner a week can make a difference.

Pick Up Trash

I have to give full credit to my mom for this one. In the midst of our many quarantine walks around the neighborhood this summer, she noticed how littered our streets were with bits of trash. She decided to change this. Along with her water bottle and standard walking-wear, my mom got into the habit of carrying a grocery bag with her on every walk and filling it up with any trash she passed along the way. You'd be surprised—there are probably more food packages and soda cans scattered around your neighborhood than you think. It only takes my mom about 3 and a half miles to fill her bag.

Explore With Friends

Yes, you may realize the benefits of getting out and active, but maybe someone else in your life could use a little extra encouragement. Strengthen a relationship and make a difference in a friend or family member's life by inviting them to come with you on your next hike, bike, or other socially-distanced outdoor excursion. When it comes to a good adventure, friends make it even better.
202Volunteer Outside

There is no better way to boost your own health while uplifting the community around you than by volunteering outside. For a few tips on where and how to get involved in your area, look here.
I have already implemented each of these resolutions in my own life and I am excited to extend them even further throughout this new year. I find it incredibly rewarding to constantly discover new ways in which to build up the world around me while bettering myself in the process, and I wish the same for you. So, whether you have already set your goals for the year or not, I urge you to seek out just one more—one that protects the environment, strengthens your character, and makes a lasting impact on our beautiful, collective community.
But don't forget—Self-improvement is also extremely important! For personal resolutions to get you more in touch with nature in 2023, see here.