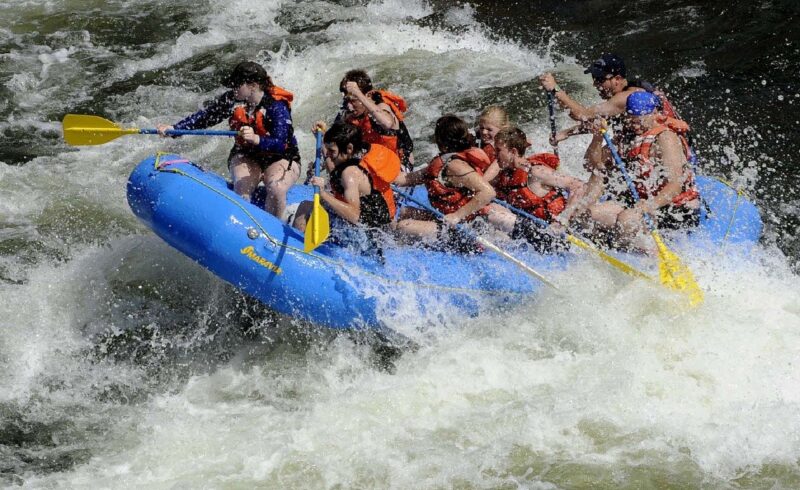 The Toccoa and Ocoee Rivers are located in Tennessee and run a stretch of 93 miles long. This river is best known for being the only natural river used in the Olympics, and athletes rafted on it in the 1996 games. Natives refer to parts of the river as the "Upper River", "Middle River", and "Lower River". Rafting companies located along the river provide white water guides and adventures through one or more of these river sections.
I went along with two other friends, and we decided to raft through the upper section, known for its difficulty during the Olympics. As we loaded up the bus and made our way to the starting place of our trip, the guides told us about different parts of the river as we passed the harder sections. This made us a little nervous, thought we were ultimately excited to experience it ourselves.
Most of the rafts were filled with 6-8 people. My friends and I ended up with our own raft along with a guide. We thought this would make passing through the rapids more difficult, as we were much lighter than the other rafts overflowing with people. We passed crowded rafts with people clinging on to stay inside.
It turned out that a lighter raft makes maneuvering the rapids easier. Since our raft was so light, we glided over the rapids with ease and had plenty of room to duck inside the raft when we came to higher rapids. The double drop on the upper river has the nicknames "Godzilla" and "Humongous", which we knew we were nearing when our guide gave us a "heads up" to get down in the raft. We made it through without falling out! Unfortunately for another group, one of their guys fell out in the middle of the rapid. A member of their raft came to the rescue by reaching into the water and pulling him back in so he wouldn't be left behind.
A wet and wild ride, rafting on the Ocoee is still one of my favorite outdoor adventures!
Image by 272447